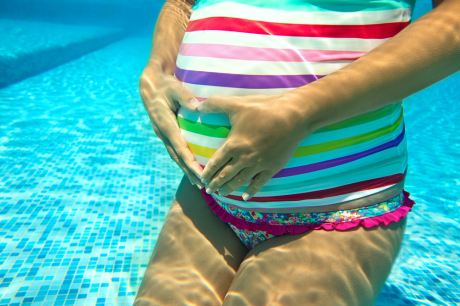 It can often be daunting beginning a new class, especially if you are unsure what to expect. Our AquaBellies aquanatal classes are designed to bring relaxation to you during the perinatal period. This is achieved by gently exercising the muscles of the body. By making use of the lovely buoyancy and unwinding with breathing exercises and guided meditation in the water.
AquaBellies class is split into sections
First Part of AquaBellies Class
you will spend the first part of your class warming up with gentle cardiovascular exercises followed by muscular strengthening techniques. There are often group and partner games and activities to encourage you to mingle and get to know the other ladies in your class. The classes are kept small so you will get lots of assistance from the instructor if you require it. It also gives you a greater opportunity to make friends in a close-knit environment with other pregnant women from your area. We keep this section of the class very light hearted and is great fun for both the participants and the instructor!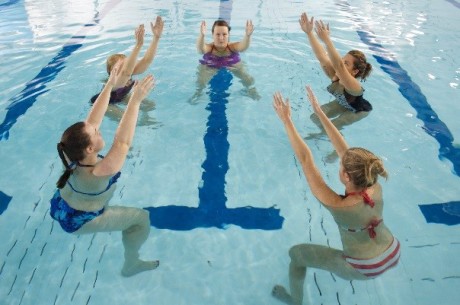 Second Part of AquaBellies Class
The second section of the class is based on aqua yoga postures and flowing movements to stretch and strengthen the muscles. By using the properties of the water to support you and move from each position more freely! All asanas are taught specifically for pregnancy and can be adapted if necessary to ensure they are suitable for all abilities and conditions within the class. This is a chance to unite the body and mind and to begin unwinding. You will be encouraged to use the water when focusing on your breathing techniques. It will allow your exhale to cause a ripple as you slip into your own zone ready for a guided meditation or relaxation technique.
Ending of AquaBellies Class
The class will end with a form of relaxation. One week you may find yourself adopting comfortable floating positions while listening to the calming sounds of the water or a relaxation CD. The next week you may find yourself propped up with your arms over the side of the pool. And your instructor will guide you to a world of bliss, where you visualize your baby and create positive images of your birth.
The classes are extremely popular and we are running our next teacher training date in Scotland soon! If you would like to run your own YogaBellies AquaBellies franchise.
Please email teachers@yogabellies.co.uk to request a prospectus, or if you are pregnant and wish to join a YogaBellies AquaBellies class please look at the postcode locator to locate your nearest instructor.
Contact us today for yoga teacher training online classes.
🤰DOWNLOAD YOUR FREE BEGINNERS GUIDE TO TEACHING PREGNANCY YOGA HERE
🤰PURCHASE THE COMPLETE YOGABELLIES FOR PREGNANCY AT HOME PROGRAMME HERE 😍
🤰💊Free download for mums-to-be your guide to probiotics in pregnancy
🧘🏽‍♀️TRAIN TO BECOME A YOGABELLIES TEACHER ONLINE🧘🏽‍♀️😍
🧘🏽‍♀️💜FIND A YOGABELLIES CLASS HERE 😍
I'm an inclusive, not scary, totally normal yet heavily qualified yoga instructor and founder of YogaBellies® and the Birth ROCKS Method. I'm trained in self hypnosis and meditation and what I love is helping women (ALL women) enjoy yoga without having to whisper all the time and wear fancy activewear that cost a month's rent.
I believe Yoga is for everyone.