'I started teaching classes in my spare bedroom.' By Rachel Moss
When Cheryl MacDonald gave birth to her son, Caelen, in 2009, motherhood was not the fairytale she'd imagined.
She was made redundant after going on maternity leave but a bigger tragedy was to fall on the day Caelen was born. Her best friend, who was also pregnant, passed away.
Feeling at her most vulnerable, MacDonald, from Glasgow, was diagnosed with postnatal depression.
"One of the ways I really coped was yoga," she tells The Huffington Post UK.
"Some days I would just pick up Caelen, go and lie on my yoga mat and cry because I was too tired to do anything else.
"My yoga mat was a safe place, somewhere where I could just go to and relax."
Today, MacDonald's yoga mat is a symbol of how far she's come. Once her place of comfort, it's now the place from where she runs her hugely successful business, YogaBellies.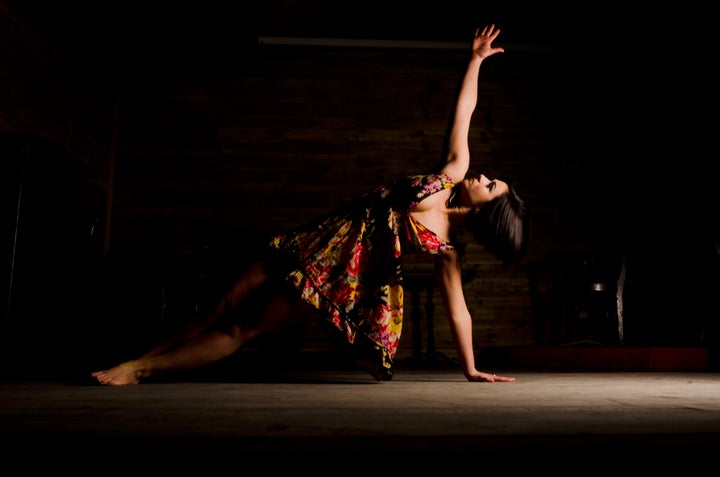 YogaBellies offers yoga classes created to support women through different stages of their life, such as during pregnancy and after birth.
Postures are adapted to suit these specific needs and babies are welcomed into classes once they are born.
"I've been to a lot of classes where you'll go along, you leave baby in the buggy and you do a bit of exercise, and baby is kind of ignored," MacDonald says.
"But in our classes baby is fully integrated. We do a bit of yoga for mum, then we do some yoga postures for baby – and even when we're doing postures for mum baby is lying just in front of mum."
According to MacDonald, newborns really enjoy watching their mums create strange shapes above them.
"They're having the best time, it's stimulating for them, but then towards the end half of them are just passed out asleep. It's the cutest thing ever," she says.
The prenatal classes also focus on breathing and relaxation techniques designed to help women during birth.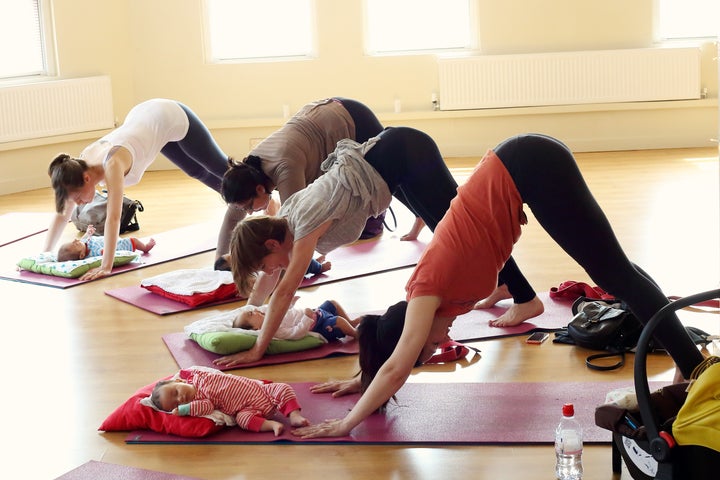 MacDonald came up with the idea after being made redundant from her job as a business analyst.
She'd practiced yoga since university and had even trained in pregnancy yoga and hypo-birthing when she was expecting Caelen. But up until that point, yoga had always been a hobby she'd taught for free to friends and family.
"When I was made redundant I thought 'you know what, I wonder if I can make a living out of this?'- and it turns out I could," she laughs.
"I started teaching classes in my spare bedroom when my son was asleep and it grew really fast.
"Then we moved to a studio when it got too big for the bedroom, then I had to hire some teachers. It just spiralled."
The 36-year-old is not exaggerating. From humble beginnings, YogaBellies now has more than 100 franchises around the world, with branches popping up in places such as Australia, Finland and America.
Her appearance on BBC show 'Dragons' Den' in 2013 undoubtably helped with publicity.
She was offered £50,000 from Duncan Bannantyne for a 35% share of the company, but despite initially accepting the cash, the entrepreneur turned down his offer after the show and managed to single-handedly build the brand.
"Although Duncan was lovely, for me, it didn't feel right," she says.
"I felt we had this women's-only community, but if Duncan suddenly came into it we'd have a guy at the top of everything.
"I don't want to sound sexist, but I didn't really know if he got where we were coming from. I'm not sure he got what we were doing."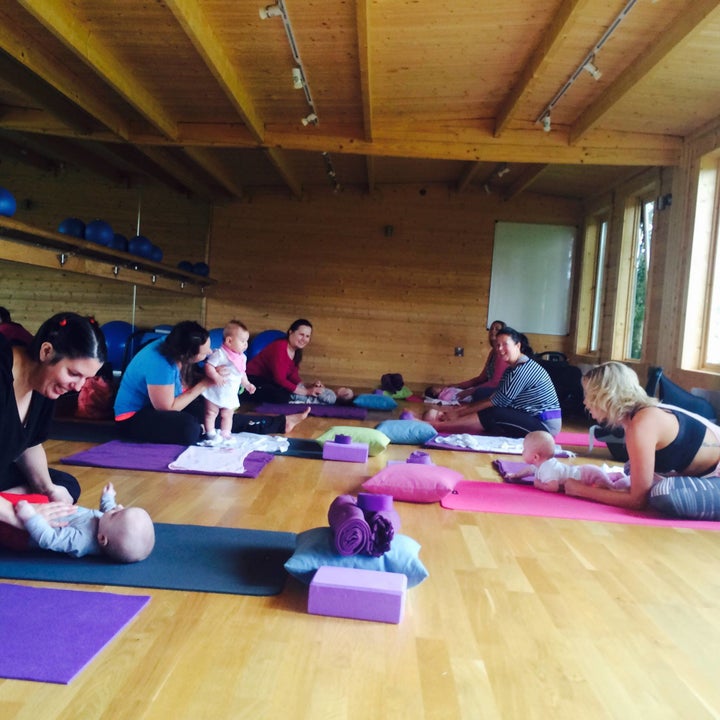 MacDonald believes one of the reasons the business has become so popular organically is because it offers a community for new mums who are struggling with isolation, something she experienced herself.
"It was a lonely time living in Scotland, it was snowing the whole winter and it was difficult to get out," she says.
"None of my friends had babies and I found that really hard. From a social point of view I felt a real need to communicate with other women."
There are never more than 12 women in a class at YogaBellies, meaning the attendees get to know each other and their instructor really well and build up a support network.
"We run baby picnics, we do strawberries and cream when it's Wimbledon and we do Christmas parties," MacDonald explains.
Their friendship extends way beyond the yoga studio. One of the instructors recently acted as her pupil's birthing partner because her husband was away on business.
"Obviously that's not her job, but that's the kind of relationship that our teachers have with their mums," she says.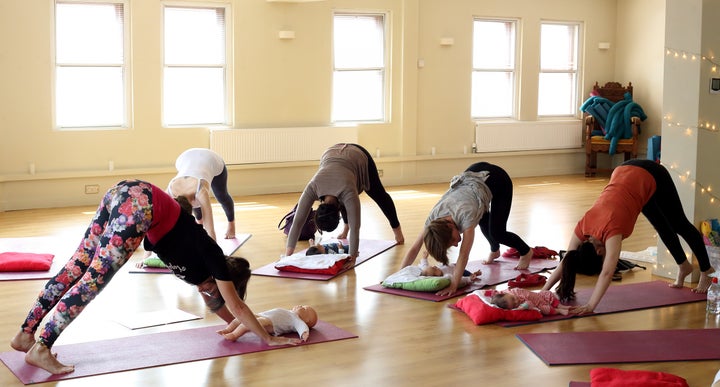 MacDonald originally began selling franchises of her business and training instructors out of necessity because the company was growing so quickly.
But now she is just as passionate about empowering mums to have fulfilling careers as she is about teaching yoga.
Today, former doctors, lawyers, accountants, hairdressers and a super model have been through her 200-hour certified training programme.
"I often say to the girls that we've got so many skills together, we can take over the world," she laughs.
"It's mainly people who are pregnant or are thinking about having kids and feel they've had enough of the rat race."
Annie Perry, from Glasgow, signed up to the training programme after becoming dissatisfied with her job in marketing following the birth of her son.
"I did enjoy my previous job but when I fell pregnant with my son I looked at things in a whole new light," the 32-year-old says.
"With my husband away traveling for work there was no way I could give my child the attention he deserved whilst working a nine to five job. On the other hand, I could never imagine being a stay-at-home mum, either."
Perry had enjoyed attending yoga classes for years and when a friend told her about YogaBellies she knew it was the right job for her.
"I can spend quality time with my son and meet a whole network of women I now consider friends. Everyone is really supportive and my partner has noticed a real difference in my persona," she says.
"Being a yoga teacher really makes me a better partner and a better mum."
Leaving the corporate world behind has also helped MacDonald to achieve greater work-life balance and connect with Caelen.
She used to work from 7am until 7pm as a business analyst and looking back, she admits being made redundant may have been a blessing in disguise.
"I would never see my baby, by the time I'd get home he'd be asleep," she says.
"I think that's why a lot of women feel depressed, because they have no other option but to do that. They don't have a choice."
MacDonald is very open about her own experience of post-natal depression and it's a topic the mums regularly discuss in class.
She believes the act of doing yoga with your baby can really help women who are struggling and she also runs baby massage classes that are open to all women.
"With postnatal depression women struggle to connect with their baby, which makes them feel like bad mothers and makes them feel isolated," she says.
"Through baby massage and baby yoga, making eye contact with the babies, talking to them and explaining what you're doing to their bodies – that in itself is scientifically shown to have a huge impact."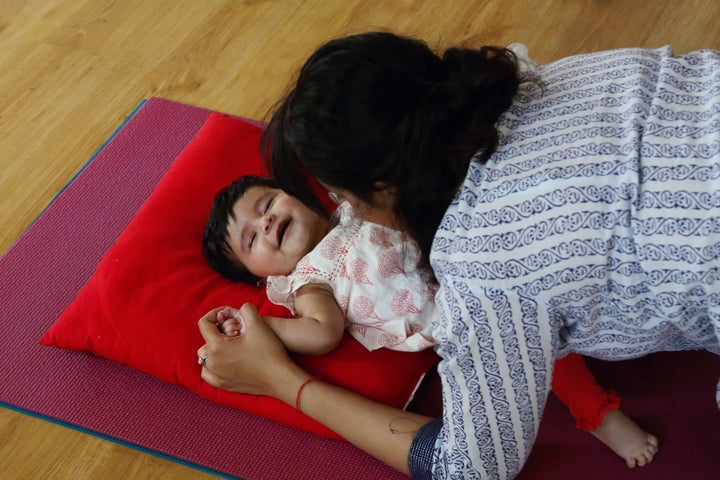 Although MacDonald started YogaBellies following a time of deep sadness in her life, she says creating the business has immeasurably changed her life for the better.
She was working "crazy hours" when she started the company but says it rarely felt like work because she was so passionate about the idea.
She'd teach classes while Caelen was sleeping, send emails while she was breastfeeding and catch up on paperwork after he'd woken up in the middle of the night.
She didn't have to do the "9 'till 5 thing" and continues to "work around [her] life instead of the other way around".
Her next challenge is spreading her story to show more women that they don't have to chose between a career and motherhood.

Contact us today for a yoga teacher training online classes.
🤰DOWNLOAD YOUR FREE BEGINNERS GUIDE TO TEACHING PREGNANCY YOGA HERE
🤰PURCHASE THE COMPLETE YOGABELLIES FOR PREGNANCY AT HOME PROGRAMME HERE 😍🤰💊
Free download for mums-to-be your guide to probiotics in pregnancy🧘🏽‍♀️
TRAIN TO BECOME A YOGABELLIES TEACHER ONLINE🧘🏽‍♀️😍🧘🏽‍♀️💜
FIND A YOGABELLIES CLASS HERE 😍💕🌴🧘🏽‍♀️
JOIN OUR THAILAND YOGA RETREAT IN NOVEMBER 😍🌴
I'm an inclusive, not scary, totally normal yet heavily qualified yoga instructor and founder of YogaBellies® and the Birth ROCKS Method. I'm trained in self hypnosis and meditation and what I love is helping women (ALL women) enjoy yoga without having to whisper all the time and wear fancy activewear that cost a month's rent.
I believe Yoga is for everyone.